Process Make Yummy Food Pumpkin Bars with Cream Cheese Frosting Recipe
Pumpkin Bars with Cream Cheese Frosting. Pumpkin Bars with Cream Cheese Frosting are a fantastic way to serve up a seasonal treat for your friends and family, enjoy! Low Carb Healthy Pumpkin Bars With Cream Cheese Frosting Recipe - This easy pumpkin bars recipe with canned pumpkin & cream cheese frosting is gluten-free & low carb, with healthy, natural ingredients. A perfect dessert for fall potlucks, delicious pumpkin bars are made even better with cream cheese frosting.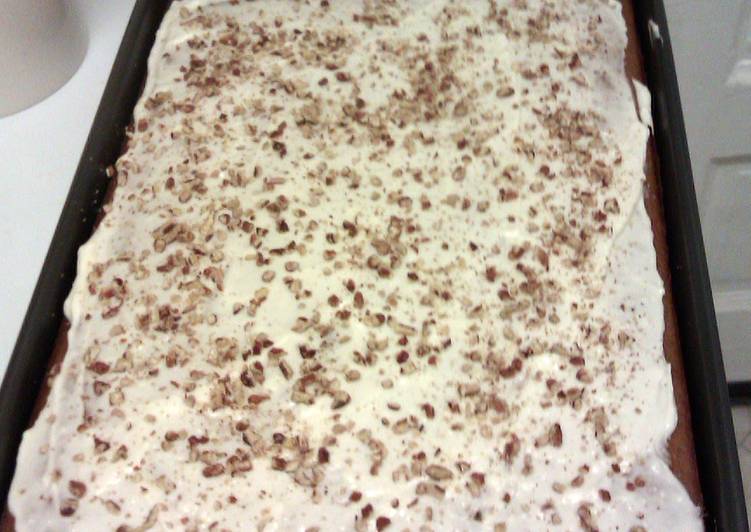 Coming up on our second anniversary of living abroad next month, I've decided it's simply a fact — moving away from home is pretty much guaranteed to make you ridiculously nostalgic for all of your favorite comfort foods. My mom's famous Pumpkin Bars recipe slathered in the best cream cheese frosting. These will be your new favorite and the only fall dessert you need! You can have Pumpkin Bars with Cream Cheese Frosting using 17 ingredients and 7 steps. Here is how you cook it.
Ingredients of Pumpkin Bars with Cream Cheese Frosting
Prepare of pumpkin bars.
You need of vegetable oil.
Prepare of sugar.
It's of can pumpkin.
Prepare of eggs.
It's of flour.
It's of cinnamon.
You need of salt.
It's of baking soda.
You need of baking powder.
You need of cloves.
You need of frosting.
Prepare of cream cheese.
It's of margarine.
Prepare of vanilla.
Prepare of milk.
Prepare of confectioners sugar.
As far as Pumpkin Desserts go, there isn't a bad one to be had. However, I'm playing favorite with Pumpkin Bars if only because they are the easiest. Remove butter and cream cheese from refrigerator and set aside. Beat eggs in a large bowl with an electric hand mixer until foamy; add the vegetable oil, pumpkin, and white sugar Spread frosting evenly over cooled pumpkin bars; sprinkle with cinnamon.
Pumpkin Bars with Cream Cheese Frosting instructions
beat together: vegetable oil, sugar, pumpkin and eggs. blend well..
sift together: flour, cinnamon, salt, baking soda, baking powder and gloves..
add dry ingredients to pumpkin mixture..
pour mixture into greased 13x9 inch pan..
bake 35 mins at 350°F..
frosting: beat together cream cheese, margarine, vanilla, milk and confectioners sugar..
frost over cooled pumpkin bars and sprinkle with nuts..
Pumpkin bars are a fall tradition in many households. While pumpkin is actually a great source of vitamins A, K, and E, as well as potassium and To prepare the glaze, in a large bowl, with a whisk or handheld electric mixer, cream together the cream cheese, vanilla, butter and powdered sugar until. Using a toothpick, gently pull the black frosting from the middle outward. For the frosting, cream together cream cheese, butter and vanilla. Then comes the cream cheese frosting.