See How To Do It Cook Yummy Buttermilk Biscuits Recipe
Buttermilk Biscuits. These Easy Buttermilk Biscuits are incredibly soft, tall, flaky, and buttery. Serve these with some jam, gravy, or your topping of choice for an easy and delicious breakfast! This recipe came from my great-great-grandmother, and was handed down to all the women in my family, and we are all Southern.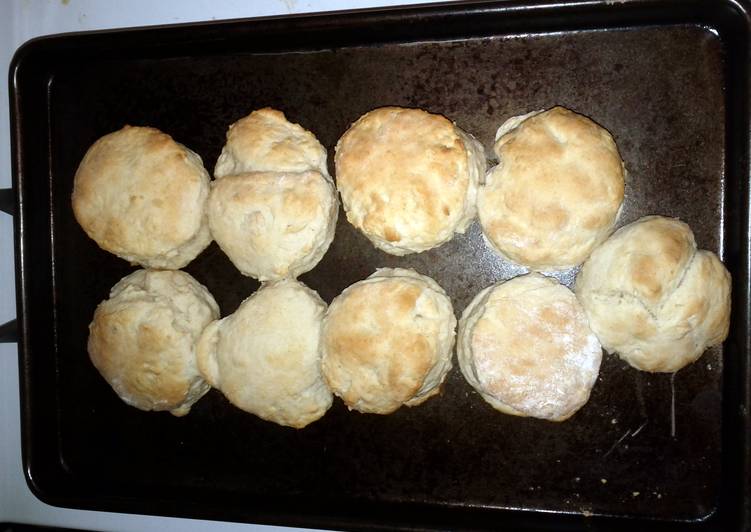 These homemade buttermilk biscuits are soft and buttery with hundreds of flaky layers! I thought it was about time it was updated. Hopefully, you'll enjoy these buttermilk biscuits as much as my family and I do!* Buttermilk Biscuits are an amazingly flaky, buttery addition to any meal. You can have Buttermilk Biscuits using 6 ingredients and 8 steps. Here is how you achieve it.
Ingredients of Buttermilk Biscuits
You need of flour.
It's of baking soda.
Prepare of baking powder.
It's of salt.
It's of unsalted butter (very cold).
It's of buttermilk.
How to Make PERECT Buttermilk Biscuits that are tall, flaky, and tender. After baking hundreds of Southern buttermilk biscuit recipes, our Test Kitchen landed on this winning recipe for Our Favorite Buttermilk Biscuits. This no-fail biscuit recipe will make you look like a pro. These biscuits are about as buttery as they can get.
Buttermilk Biscuits instructions
450F oven.
sift dry ingredients.
cut butter into chunks, then cut into dry ingredients until it resembles course meal.
add buttermilk, mix until JUST combined.
turn dough onto floured board.
pat dough to 1/2 inch thick, fold about 5 times to 1 inch thick.
cut into rounds.
bags for 12 - 15 mins.
We love them on their own, but slather them with homemade sausage gravy and. This Southern Flaky Buttermilk Biscuit recipe yields perfection. They're buttery, flaky, tall and deliciously savory biscuits. The recipe for these four-ingredient biscuits has been handed down for many generations. —Fran Thompson, Tarboro, North Carolina. These Classic Southern Buttermilk Biscuits are light, tender, and the perfect match for a slice of ham, melted butter and honey, your favorite jam, or smothered in country gravy!