With This Way Prepare Delicious Potato broccoli ham and cheese soup Recipe
Potato broccoli ham and cheese soup. When you can't decide whether to make potato, ham, or broccoli-cheese soup, try this soup that combines them all! This is a soup for when the weather is bitter and you crave serious, starchy comfort food. I put this together one night when I couldn't decide whether to make potato, ham, or.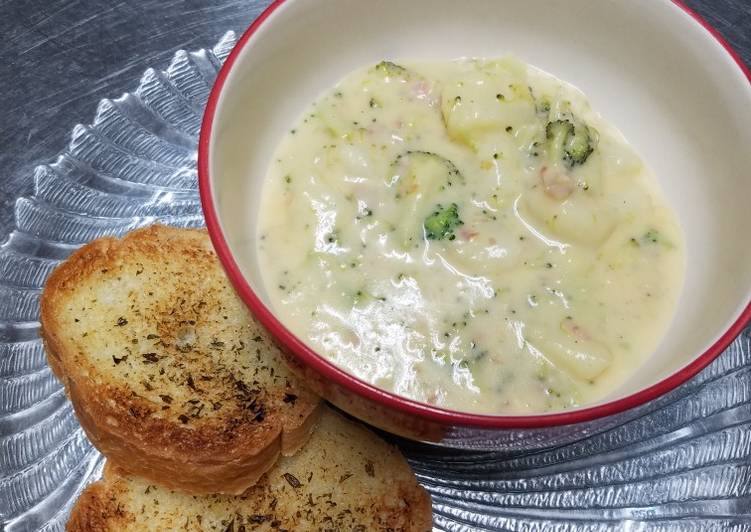 Because a broccoli soup always makes me feel good about myself. It makes me feel like I'm being really healthy. This thick and creamy broccoli, cheese and potato soup is lick-the-bowl good! You can have Potato broccoli ham and cheese soup using 13 ingredients and 4 steps. Here is how you cook that.
Ingredients of Potato broccoli ham and cheese soup
You need 1 head of fresh brocolli.
Prepare 2 cups of finely diced ham.
You need 1/2 cup of diced onion.
Prepare 1/2 cup of butter.
You need 1/4 cup of flour.
You need 1/2 cup of white cooking wine.
You need 1 cup of milk.
You need 8 cups of potatoes (peeled & chopped).
Prepare 12 cups of water.
You need 2 teaspoons of salt.
You need 1 teaspoon of pepper.
It's 6 slices of American cheese.
It's 4 ounces of velveeta cheese.
As the weather is getting cooler, it's the perfect soup to warm up and leftovers are great to pack for lunch. This creamy and cheesy potato soup with broccoli comes together quickly for an easy and quick weeknight meal that everyone will love. But this broccoli potato cheese soup recipe doesn't sacrifice flavor in it's ingredient modifications, but instead is a healthyish version of my childhood fave. This broccoli potato cheese soup won't freeze well because of the dairy.
Potato broccoli ham and cheese soup instructions
Place water potatoes and salt in 8 quart pot. Boil until tender, around 20 minutes. Simutaneously, chop broccoli florets and stem and steam until tender, around 15 minutes..
While boiling potatoes and steaming broccoli, melt butter in pot and cook onions until translucent. Mix flour into butter and onions. Slowly add white cooking wine stirring constantly until it is a smooth consistency..
Remove water from potatoes and add 8 cups to sauce. Stir in milk and bring mixture to a simmer. Slowly add American and velveeta cheese, stirring until smooth..
Add potatoes, ham, broccoli and pepper to the mixture and allow to sit for 5 minutes. Serve with garlic toast..
If you don't have cheddar, try using another flavorful, good melting cheese such as Gruyere cheese. You could also use cauliflower instead of broccoli in this potato soup recipe. Add potatoes, salt, and boullion granules. Fill the pan with water to just cover the potatoes. Add this mixture to the pan all at once after the potatoes are done.