See Process Cook Tasty Tasty Carla halls BUTTERMILK CHEESECAKE WITH A RHUBARB GLAZE Recipe
Carla halls BUTTERMILK CHEESECAKE WITH A RHUBARB GLAZE.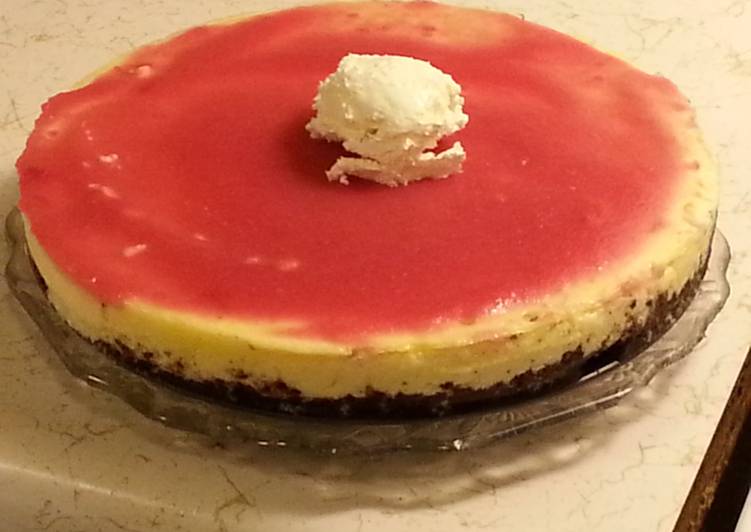 You can cook Carla halls BUTTERMILK CHEESECAKE WITH A RHUBARB GLAZE using 17 ingredients and 8 steps. Here is how you cook that.
Ingredients of Carla halls BUTTERMILK CHEESECAKE WITH A RHUBARB GLAZE
Prepare 2 cup of chocolate wafer cookies.
It's 1 of For the crust.
You need 6 tbsp of melted butter.
Prepare 1/2 tsp of salt.
You need 1 of For the filling.
You need 2 lb of cream cheese (softened).
It's 1 1/4 cup of granulated sugar.
You need 3 large of eggs (room temperature).
It's 1/2 tsp of salt.
Prepare 2 tsp of vanilla extract.
Prepare 1 cup of buttermilk (room temperature).
Prepare 1 of For the rhubarb glaze.
You need 1 cup of rhubarb (cut into 1-inch pieces).
It's 1/2 cup of water.
You need 1/4 cup of sugar.
Prepare 1/2 of lemon (juice and zest).
You need 1 tbsp of cornstarch.
Carla halls BUTTERMILK CHEESECAKE WITH A RHUBARB GLAZE step by step
For the Crust: preheat oven to 325°F..
Prepare a 9-inch spring form pan with cooking spray. In the base of a food processor, pulse together the crust ingredients until the cookies are fine crumbs and the ingredients have incorporated. Press evenly into the bottom of the prepared pan. Bake for 10 minutes. Remove from oven and allow to cool completely while preparing the filling. Once cooled, wrap the outside and bottom with two pieces of heavy duty aluminum foil..
For the Filling: beat together the cream cheese and sugar until fluffy, about 5 minutes. Beat in one egg at a time, making sure to incorporate fully between each addition. Add the salt and vanilla extract and buttermilk. Mix just until combined..
Pour the batter over the prepared, cooled crust. Place the cheesecake inside a roasting pan. Transfer the pan to the preheated oven. Carefully pour warm water into the roasting pan until it reaches halfway up the sides of the spring form. Cook until just slightly jiggly in the center, about an hour and 15 minutes..
Meanwhile, make the rhubarb glaze..
Combine all the ingredients in a medium pot. Whisk to combine until smooth. Bring to a boil and reduce to a simmer. Cook, stirring occasionally, until the mixture has thickened and the rhubarb is tender, about 15 minutes. Blend until smooth and cool to room temperature..
Remove cheesecake from oven and place spring form gently on a cooling rack. Cool to room temperature. Pour the cooled glaze over the top of the cooled caked. Place in the refrigerator for at least 2 hours..
Tip: switch up the rhubarb glaze with a different flavor, such as strawberry!.